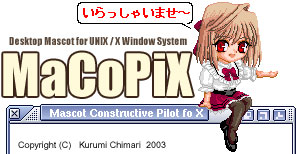 MaCoPiX (Mascot Constructive Pilot for X) is a desktop mascot application for UNIX / X Window system and Microsoft Windows / macOS.
The special features of this application could be said as follows...
-
You can make window sitters , fixed desktop mascots, and, furthermore, desktop clock mascots, using MaCoPiX.
This application could be a follower of "ActX". So, it is basically put emphasis on the function as an window sitter. But, of course, it can be used as the other type of desktop mascots.
-
Using Gtk+ as GUI
MaCoPiX can edit its all configuration from its GUI. Furthermore, it is possible to create any mascots. You don't need to use any text editors for such purposes.
-
Using gdk-pixbuf for image loading
Compared with ActX, in which we can only use xpm type imgaes, MaCoPiX can handle all types of images supported by gdk-pixbuf.
-
Biff function
MaCoPiX has biff function to checke local mail spool and POP/APOP servers.
In addtion, MaCoPiX is now reinforced in functions of its menu, balloon and biff systems, compared with ActX.



OS
UNIX OS : Compositing window managers (GNU shell, Compiz etc.) running on UNIX systems with X Window System

or

Microsoft Windows 7 or later (64bit; recommended Windows 10) or

macOS 10.9 (Mavericks) or later (64bit)
library
- Gtk+3 > ver 3.22 (or Gtk+2 > ver. 2.24) -- Gtk+3 recommended
- gettext > ver 0.10
- OpenSSL (or GNU TLS)
are required.
You might need each libraries which support each types of images (libtiff, libpng etc.) in order to load them.

Windows/macOS binary versions include all above libraries in their packages.

[Config Dialog]

[Clock Function]



[Launcher Menu]



[Biff Function]
---


Contents on this web page...

Introduction
System Requirements / Screen Shots

Download
Program / Mascots / Binary Package

Installation & Starting
Make and Install of Program / Install of Mascots / Starting, Commandline Options / Popup Menu

Comments
Created or Necessary Files, Directories / About Mascots / Launcher Menu / Biff Function / Time Signal Function / Home Position

Configuration
Resource Configuration / Mascot Configuration / Menu Configuration

For Creators
How to Create Mascots

FAQ
Frequently Asked Questions

the List of Mascots
Window Sitters




---

---
Last modified: Mon Dec 30 19:27:03 HST 2019

Kurumi Chimari
e-mail : chimari_at_rosegray.sakura.ne.jp
(Please replace "_at_" by "@" for e-mail address)