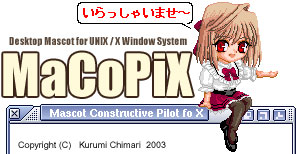 MaCoPiX (Mascot Constructive Pilot for X) is a desktop mascot application for UNIX / X Window system and Microsoft Windows.
The special features of this application could be said as follows...
-
You can make window sitters , fixed desktop mascots, and, furthermore, desktop clock mascots, using MaCoPiX.
This application could be a follower of "ActX". So, it is basically put emphasis on the function as an window sitter. But, of course, it can be used as the other type of desktop mascots.
-
Using Gtk+ as GUI
MaCoPiX can edit its all configuration from its GUI. Furthermore, it is possible to create any mascots. You don't need to use any text editors for such purposes.
-
Using gdk-pixbuf for image loading
Compared with ActX, in which we can only use xpm type imgaes, MaCoPiX can handle all types of images supported by gdk-pixbuf.
-
Biff function
MaCoPiX has biff function to checke local mail spool and POP/APOP servers.
In addtion, MaCoPiX is now reinforced in functions of its menu, balloon and biff systems, compared with ActX.



OS
UNIX systems with X Window System (more than 16bit colors / X11R6 are recomended) -- (linux, *BSD, Solaris etc.)

or

Microsoft Windows 2000/XP or later
library
- Gtk+ > ver 2.0.0
(or Gtk+ > ver. 1.2.0, gdk-pixbuf > ver 0.7.0, libpng)
- gettext > ver 0.10
- OpenSSL
are required (or recommended).
You might need each libraries which support each types of images (libtiff, libpng etc.) in order to load them.

Windows binary version includes all above libraries in its package.

[Config Dialog]

[Clock Function]



[Launcher Menu]



[Biff Function]
---


Contents on this web page...

Introduction
System Requirements / Screen Shots

Download
Program / Mascots / Binary Package

Installation & Starting
Make and Install of Program / Install of Mascots / Starting, Commandline Options / Popup Menu

Comments
Created or Necessary Files, Directories / About Mascots / Launcher Menu / Biff Function / Time Signal Function / Home Position

Configuration
Resource Configuration / Mascot Configuration / Menu Configuration

For Creators
How to Create Mascots

FAQ
Frequently Asked Questions

the List of Mascots
Window Sitters




---

---
Last modified: 2008/06/23 19:16:41 HST

Kurumi Chimari
e-mail : chimari_at_rosegray.sakura.ne.jp
(Please replace "_at_" by "@" for e-mail address)